return to willmatheson.com
return to photos directory
Photo Series #12: December 2002 - May 2003 - Photographic memories from December 2002 through May 2003.
Something new: All the photographs here are in roughly 640x480 - even the Kodak Picture CD photos (I have decided that the default size isn't big enough anymore). And again, if anyone would like a 1800x1200 copy (ideal for printing) of any photos here that I have not provided the links for, please e-mail me at enlargements@willmatheson.com, and I will send you the picture.
Click on the images below to see the associated series. Check the very bottom of this page for another fun little challenge.


Film Amateura Production

WWE visits Halifax

Nova Scotia Family and Friends I

Around Town I

Parties

Prince Edward Island III

Licence Plates I****

QEII I

Water!

Saint Mary's III

Bedford III

Pre-prom, etc. '99**

Special: .net Academic Tour Stop***
** - Primarily new material. I provide links to the older stuff. And, no, "Melissa," you're NOT included, so you don't have to sue me. =)
*** - This has actually been online for a while, to preserve older links from other sites, I'm running it as a "Special."
**** - First in a series; I've decided to start taking pictures of authentic (actually being used on the car) Licence plates, mostly just for kicks.

Processing Statistics:
Mill Cove Sobeys: 1 12 exp roll Superia 800; 1 24 exp roll Our Compliments† 400; 3 24 exp rolls Superia 200; 1 36 exp roll Royal Gold 400 ... and then the cashiers were rude to me and I took my business elsewhere. They were starting to f*** up the colours in my photos anyway.
Bedford Market SuperStore: 1 36 exp roll Royal Gold 400; 5 24 exp rolls Photolab‡ 400 ... and then I realized their scanning still wasn't going to get any better. Loblaws should be ashamed of themselves and I hope they upgrade their equippment to industry standards soon. I'd like to take my business here, but I can't right now.
Sunnyside Mall Blacks Photo Corporation: 5 24 exp rolls Black's§ 400 ... and then I was both broke and disgusted by the clerk's lack of knowledge of their pricing. It seems that they don't like to nail the prices down until you're standing at the counter with wallet in hand - just like a bartender!
Bedford Place Shoppers Drug Mart*: 2 24 exp rolls Superia 400
Hammond Centre Shoppers Drug Mart*: 1 24 exp roll Superia 400
† - Manufactured for Sobeys by Konica.
‡ - Manufactured for Loblaws by Fujifilm.
§ - Manufactured for Black Photo Corporation by Fujifilm.
* - Processed off-site with ultra-keen Kodak Picture Processing. (What can I say? It's the only service that offers consistent results at a decent price. Speaking of price, though, it can vary widely from outlet to outlet for no good reason. Watch for sales. Also, Superia 400 seems to be the most consistent film. If you can't go digital, stick with it. Max 400 and Centuria 400 are also good, but you get a free Big Mac with Superia!)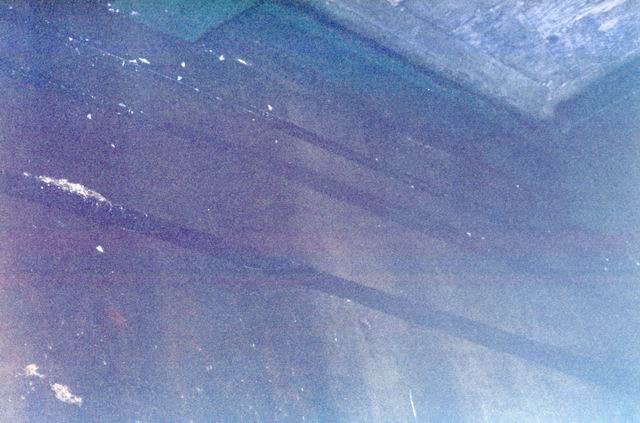 Wow, what's this? Well, that's what I'm asking you. This is a two-part "contest" (a contest in the sense that if you win you get your name permanently mentioned here and an excuse to talk to me), that will pit your wit against my idiot box of a camera. There will probably be two winners, but possibly one really smart winner. For Part One, simply guess:
1) What this picture is of.
When someone gives me a correct answer at photocontest@willmatheson.com, they'll get their name mentioned here, and I'll explain the answer to everyone. But then, it's time for Part Two, where you simply guess:
2) Why I took this picture.
... and that should be the interesting part. Again, send guesses to photocontest@willmatheson.com. The winner will get their name mentioned here, and I'll tell the whole story, such as it is.
Who's eligible: Virtually anyone.
Who's not: Relatives to "second degree" (second cousins and their ac/decendants - plus their significant others), steprelatives to "zeroth degree" (stepsiblings and their ac/decendants - plus their significant others), Scott Cluney (because I told him the answer at the store where I got this print). However, all people who are ineligible are free to guess just for fun.
Other: You can guess as many times as you want. If there's a photo finish (hahahahaha - I kill me!), the winner will be the first message to land in my Inbox.
Warning: If you are between 18-27, female, and single*, there is a very real possibility I may ask you for your own photo. With any luck it will be of the kind where I don't have to guess what it is. =)
return to willmatheson.com
return to photos directory
* - In which case I wonder how the heck you got here...