willmatheson.com article navigation system: previous - next - go back to listings
return to willmatheson.com
return to photos directory
Photo Series #8j: Photo Journal I: February - March 2002 - Another 'cant-miss' blockbuster with lots of good pictures and funny commentary. It's hard to sum up in a paragraph, and it is more writing-oriented than PS7.
All photos (except for the ones on the digital page) were taken with my new 35mm camera and devloped / scanned professionally. With the kind of money I spent, anyone can become a photographic genius. =)
Processing Statistics:
Carsand-Mosher Bayers Lake: 1 12exp, 2 24exp rolls Max 400; 1 24exp roll Superia 800
Click on the images below to view the associated photo journal. Be on the lookout for special mini-essay "digressions" (sometimes way off-topic) inserted at appropriate points on some pages.


Journeyings - 03/2002

Maple Sugar Trip - 03/14/2002

WrestleMania XVIII (X8) - 03/17/2002

Royal Ontario Museum / Casa Loma - 03/18-19/2002

Images of Self - 03/2002


Digital Experimentations from Souris - 02/2002
Bienvenue à Montréal (no photos, but damn funny) - 03/21/2002
"Photo Contest" Result:
Katrina Elizabeth Boyce of Bedford, Nova Scotia was the first non-relative to correctly guess the content of this picture. A full explanation is provided below.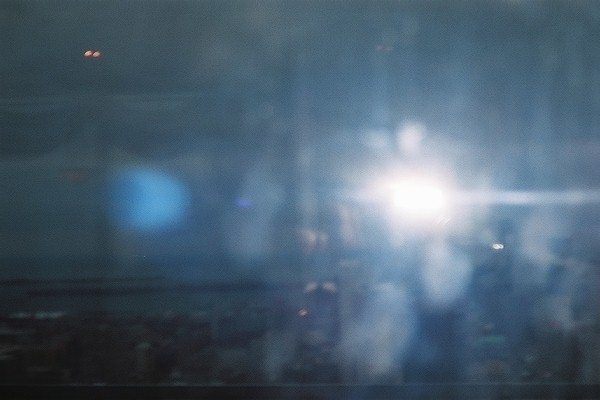 excerpt from an e-mail to Uncle Shane:
"Flash against a window? You got it! I took that picture from the bar and lounge at the top of one of the towers close to downtown Toronto. If you look closely, you can sort of see some buildings, and the dark bars to the left are Toronto Island. Ruth-Ann had wanted to take Alex and I up to enjoy some nachos, but they wouldn't let us in beacuse Alex wasn't 19. What made it strange was that it was the middle of the afternoon, and Alex testified that he had been up there before. Oh, well. So I figured I could at least get the picture, but I forgot to turn the flash off. That's the annoying thing about having an auto camera - unless I leave the camera on (with the zoom out, meaning I would not be able to put it back in the bag), I have to turn the flash off every single time. Bleah. I thought I might still get the picture anyway, so I didn't bother taking another shot. It was only when I got home and had my pictures done up at Carsand that I discovered how bad flash pictures against glass or mirrors really turn out."